The story of 43 massive President's heads now lying derelict on private property, deep in the farmlands of Virginia.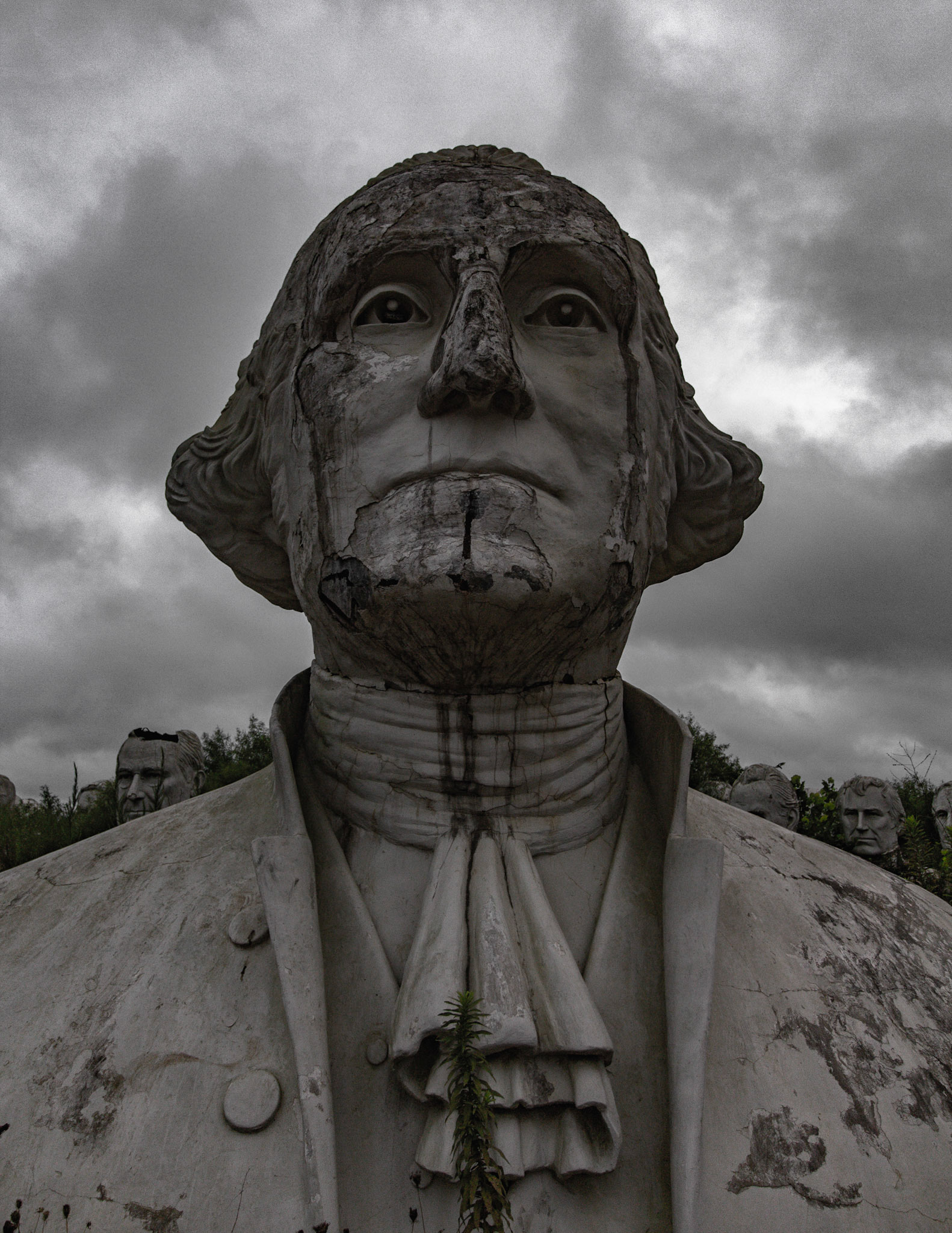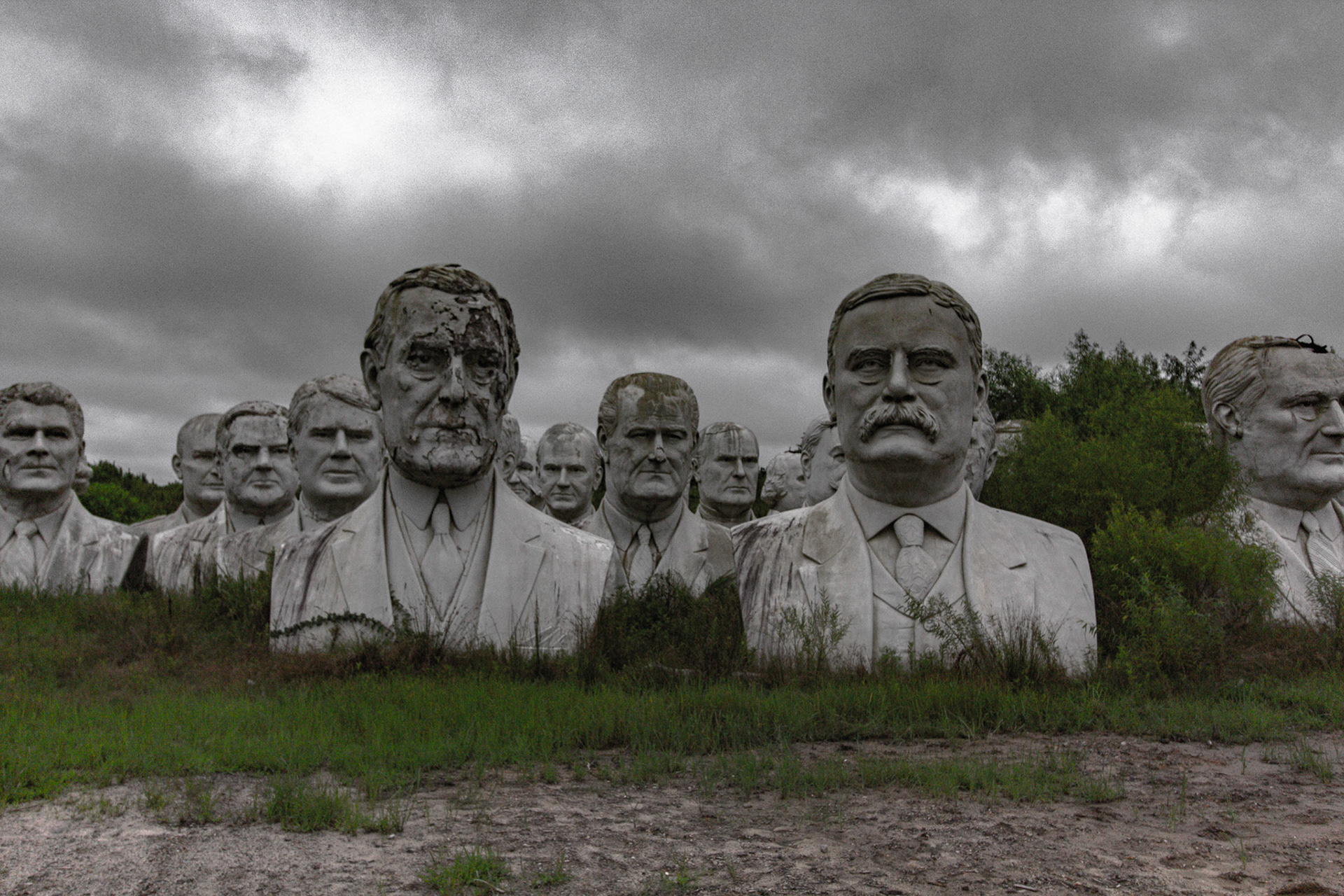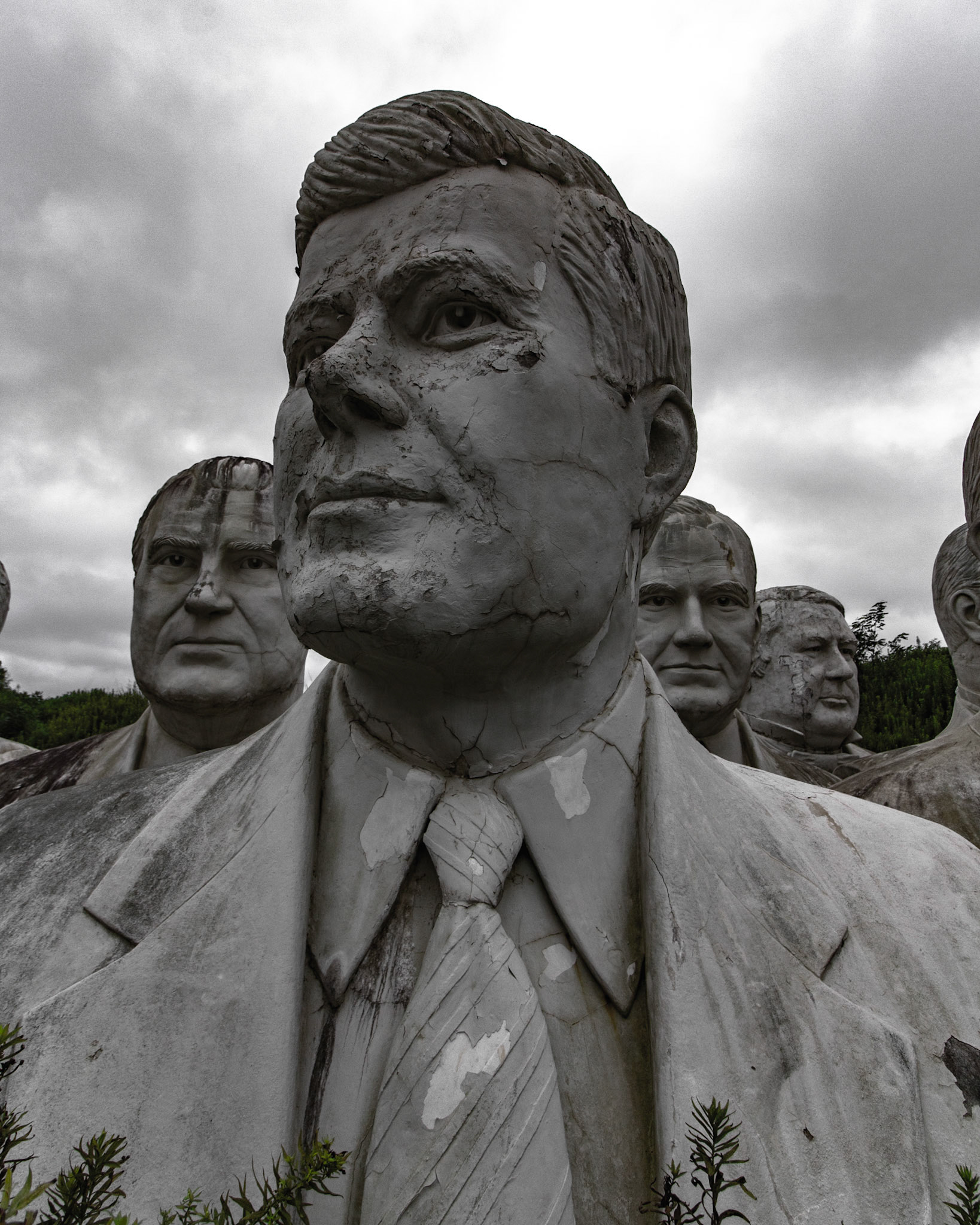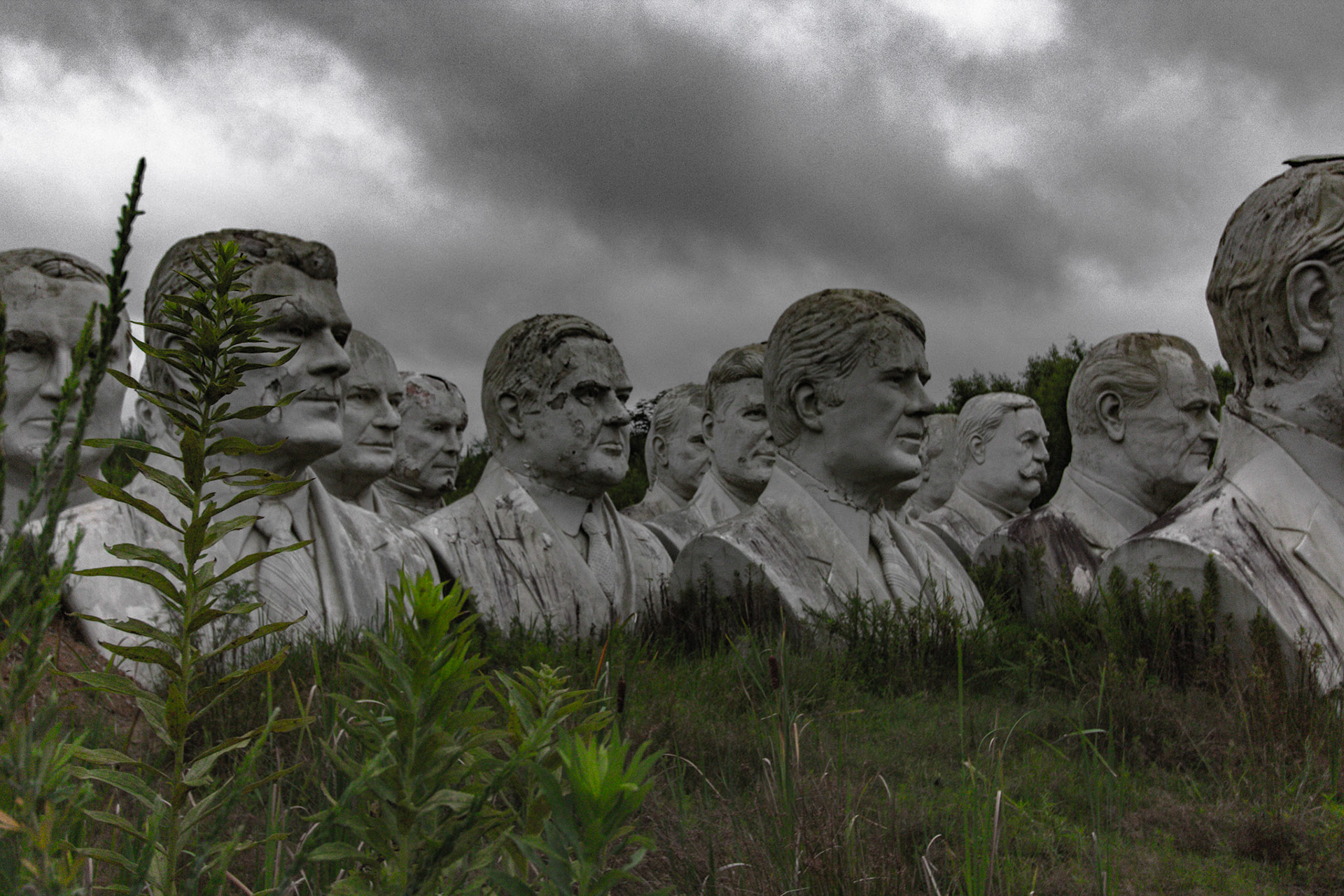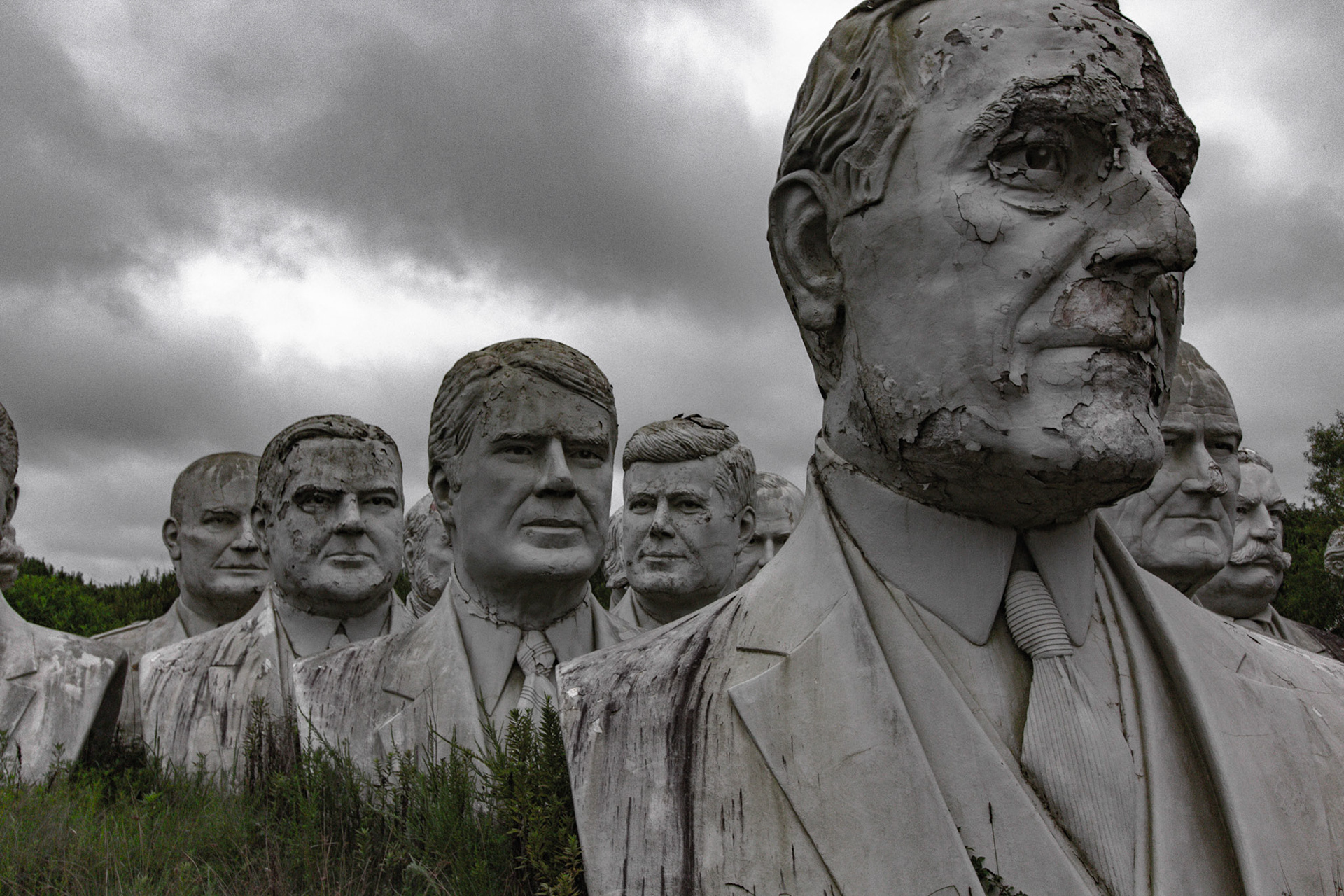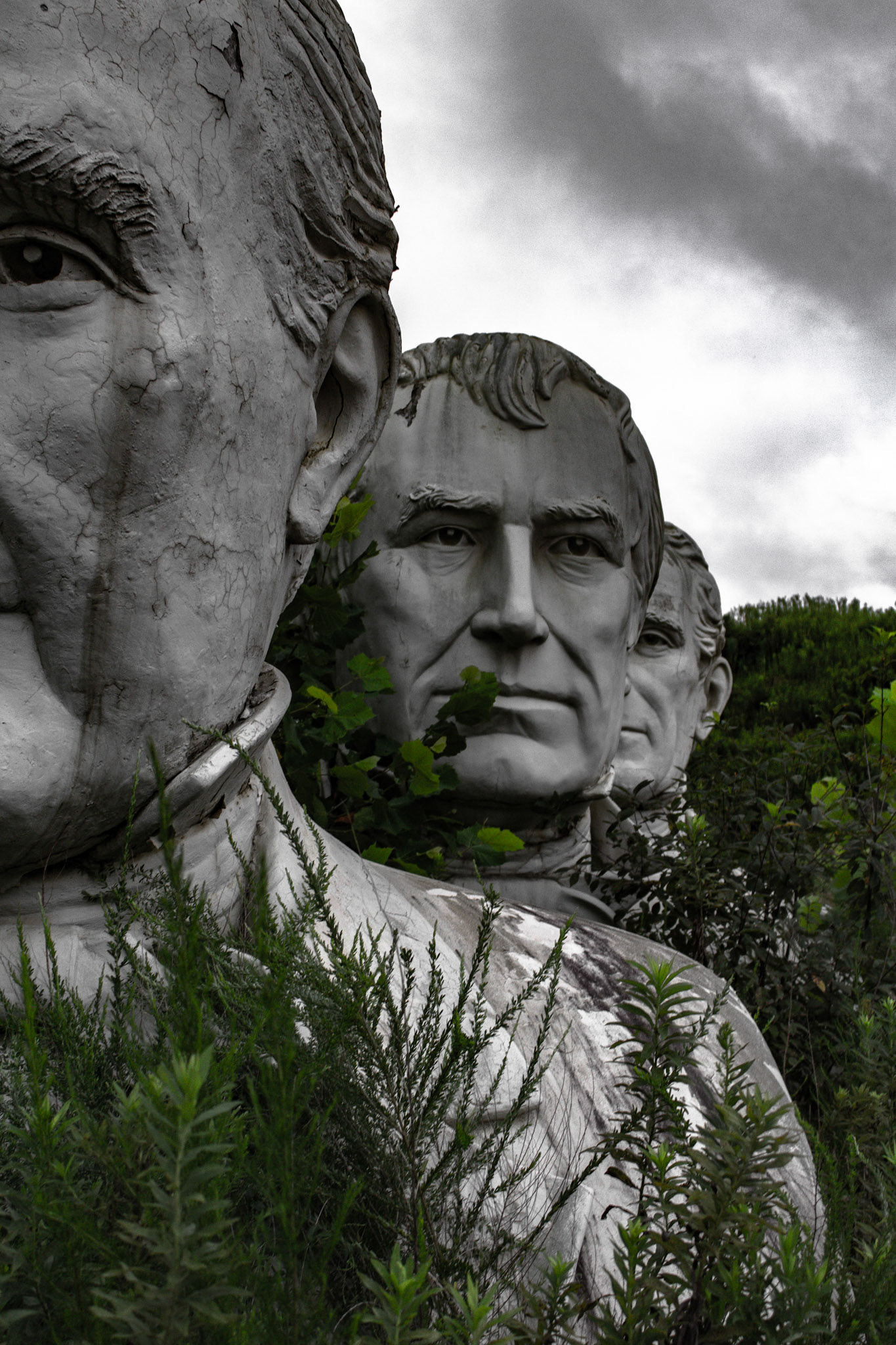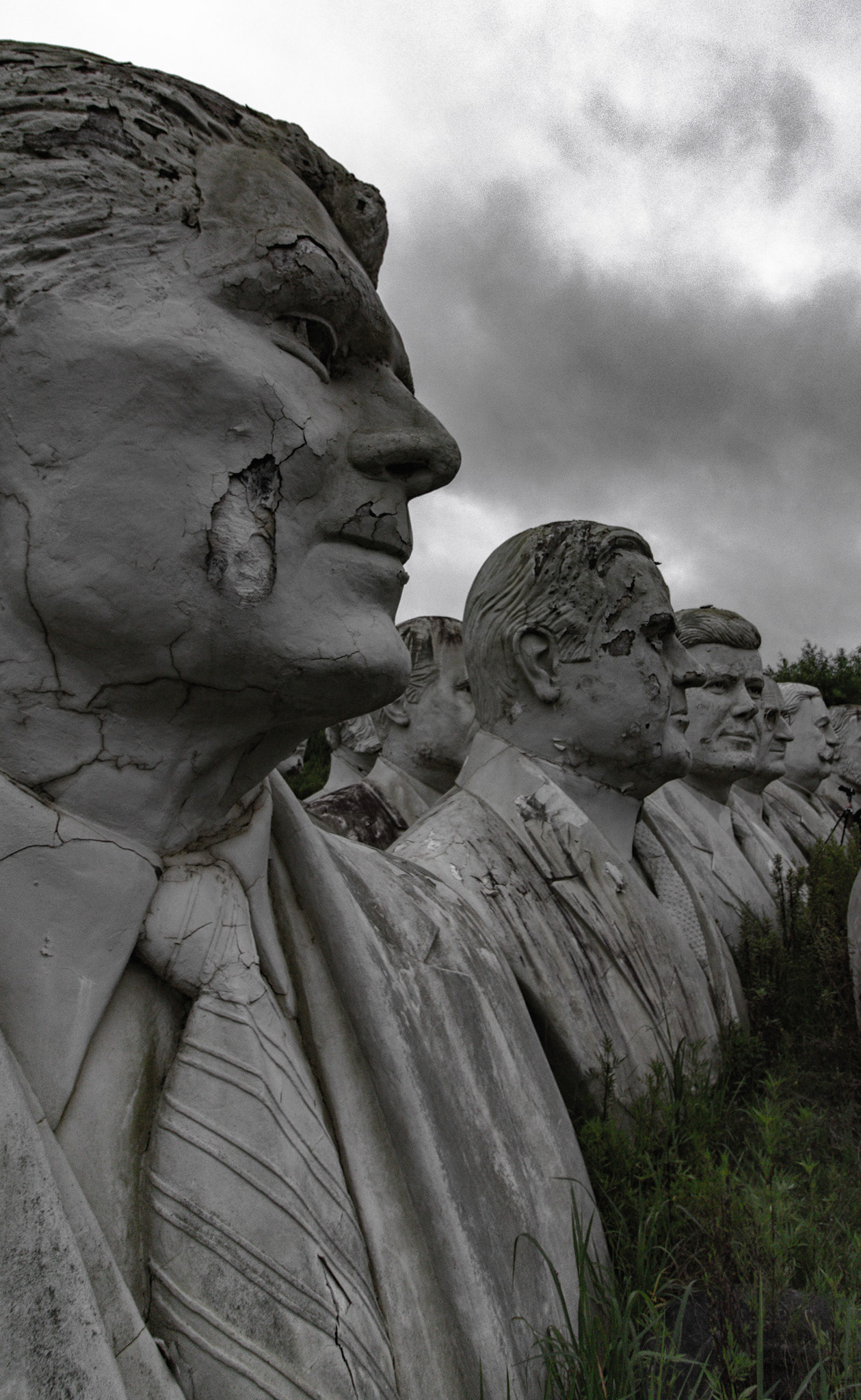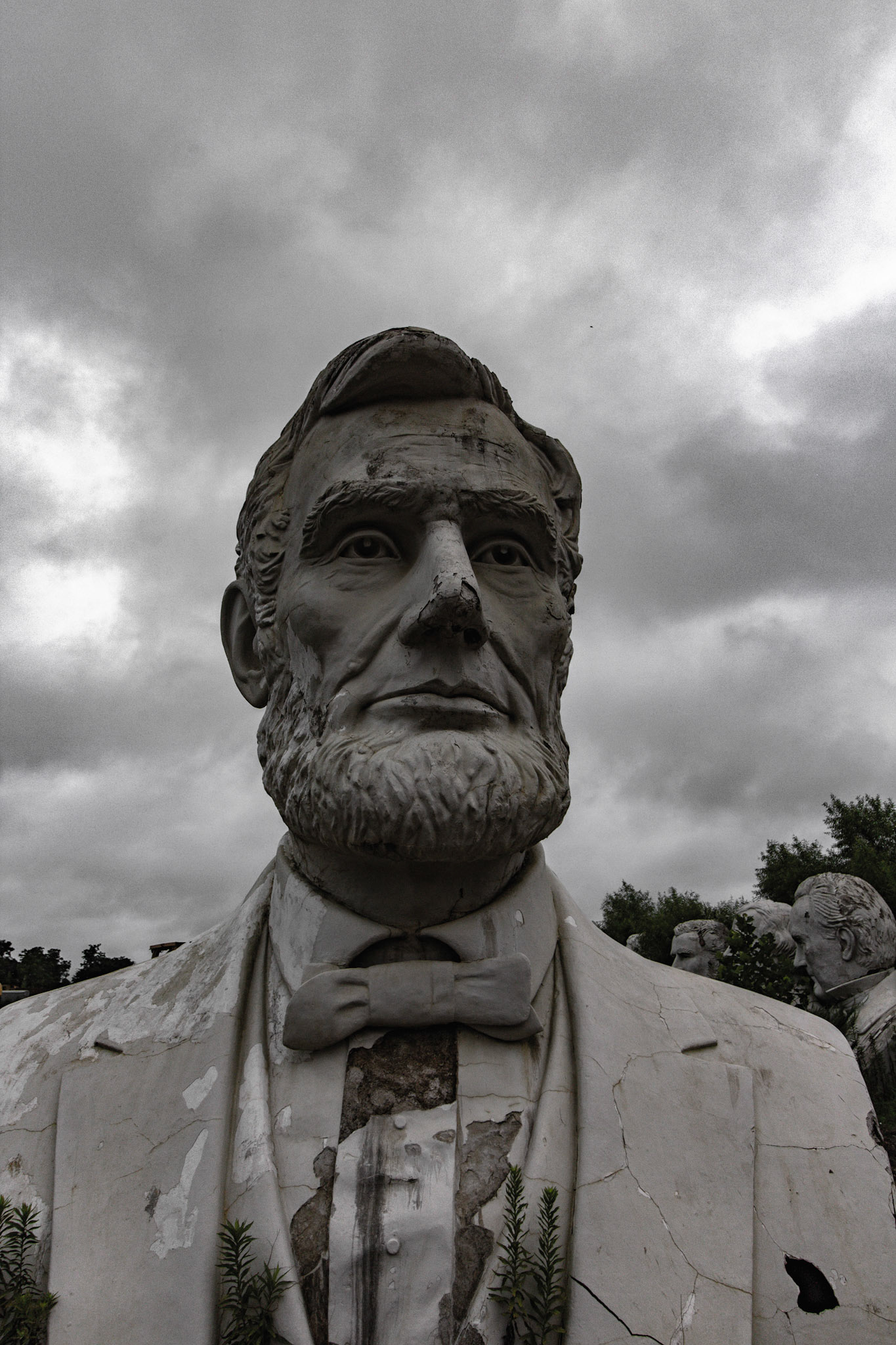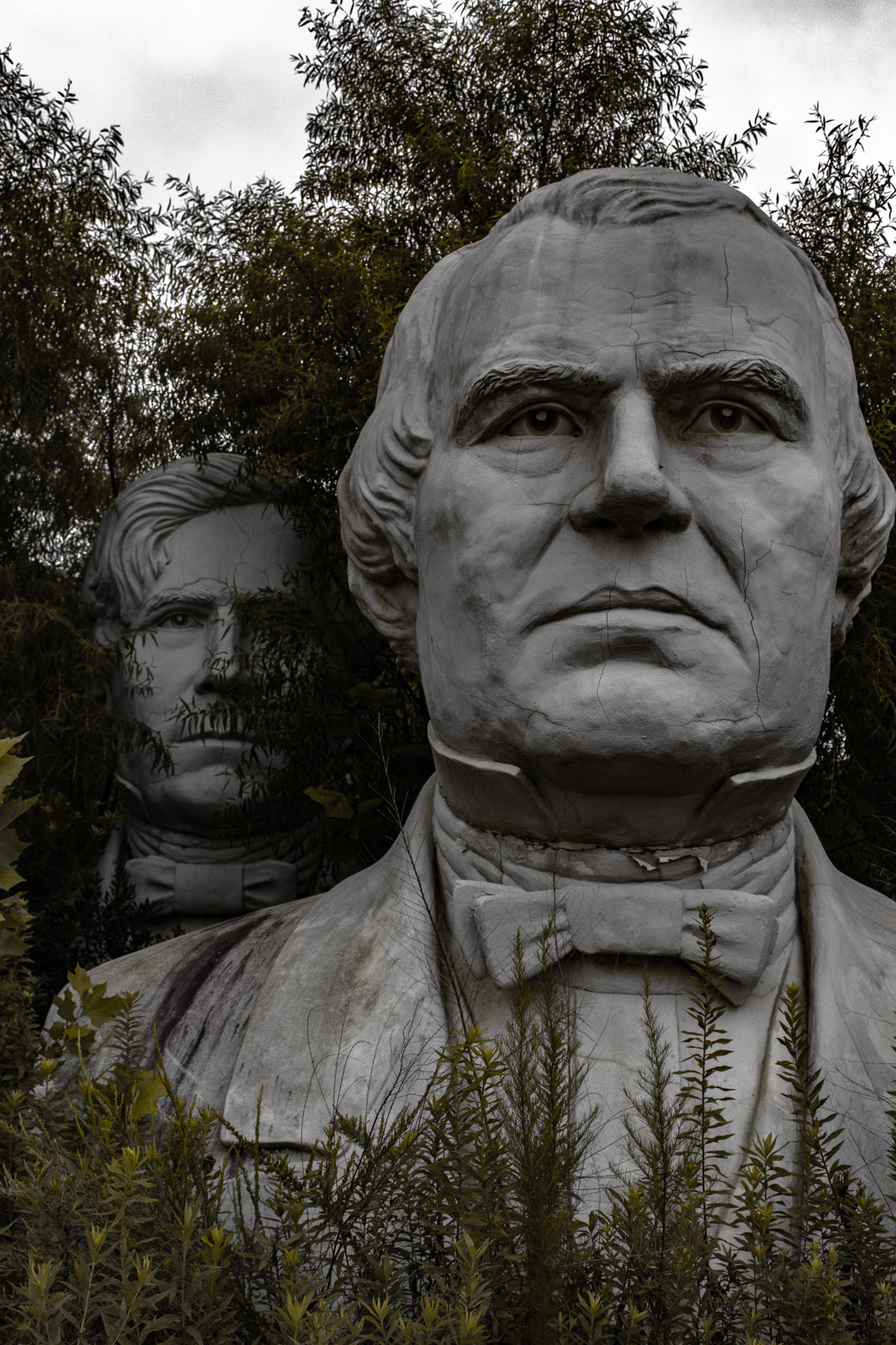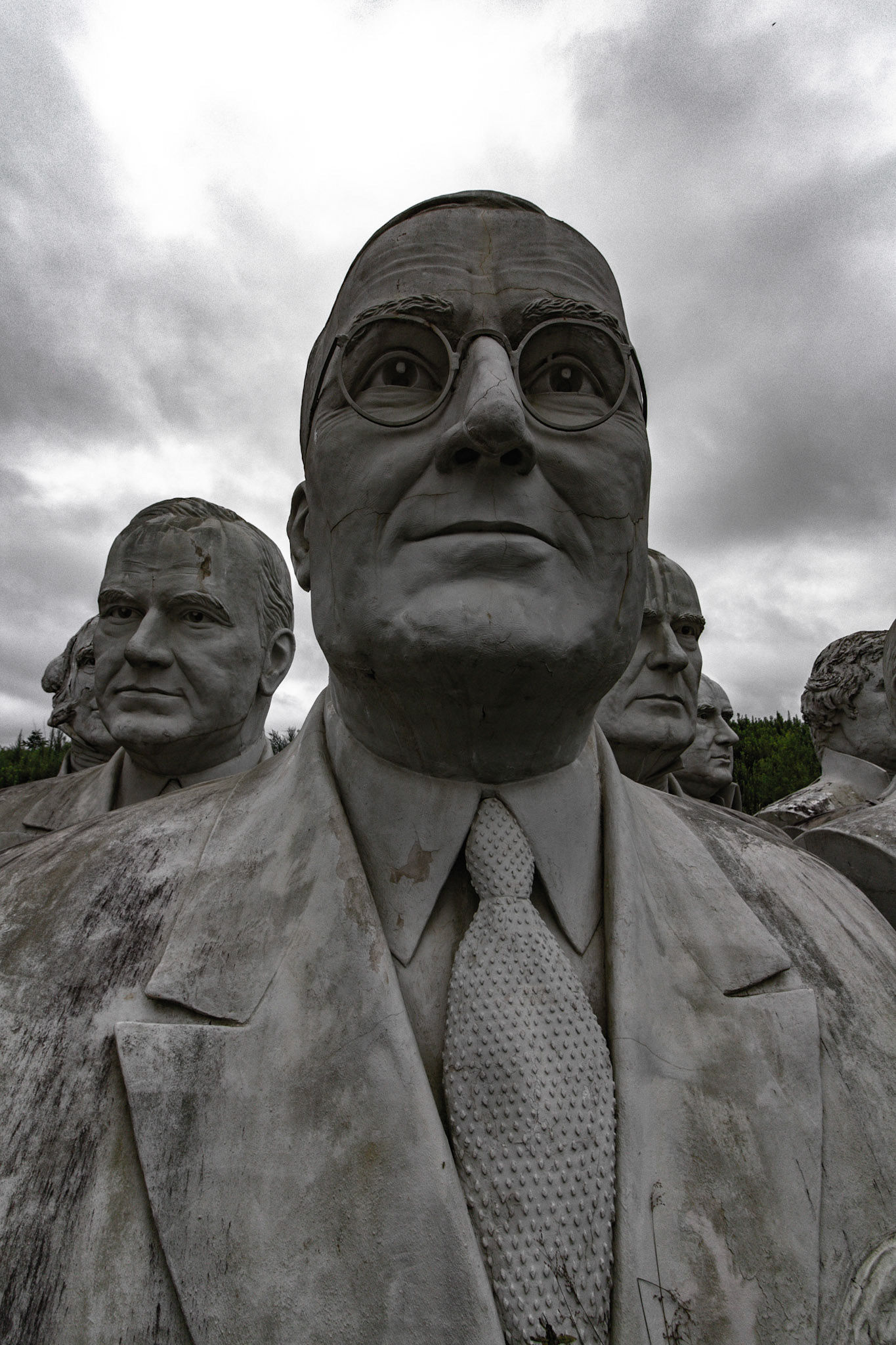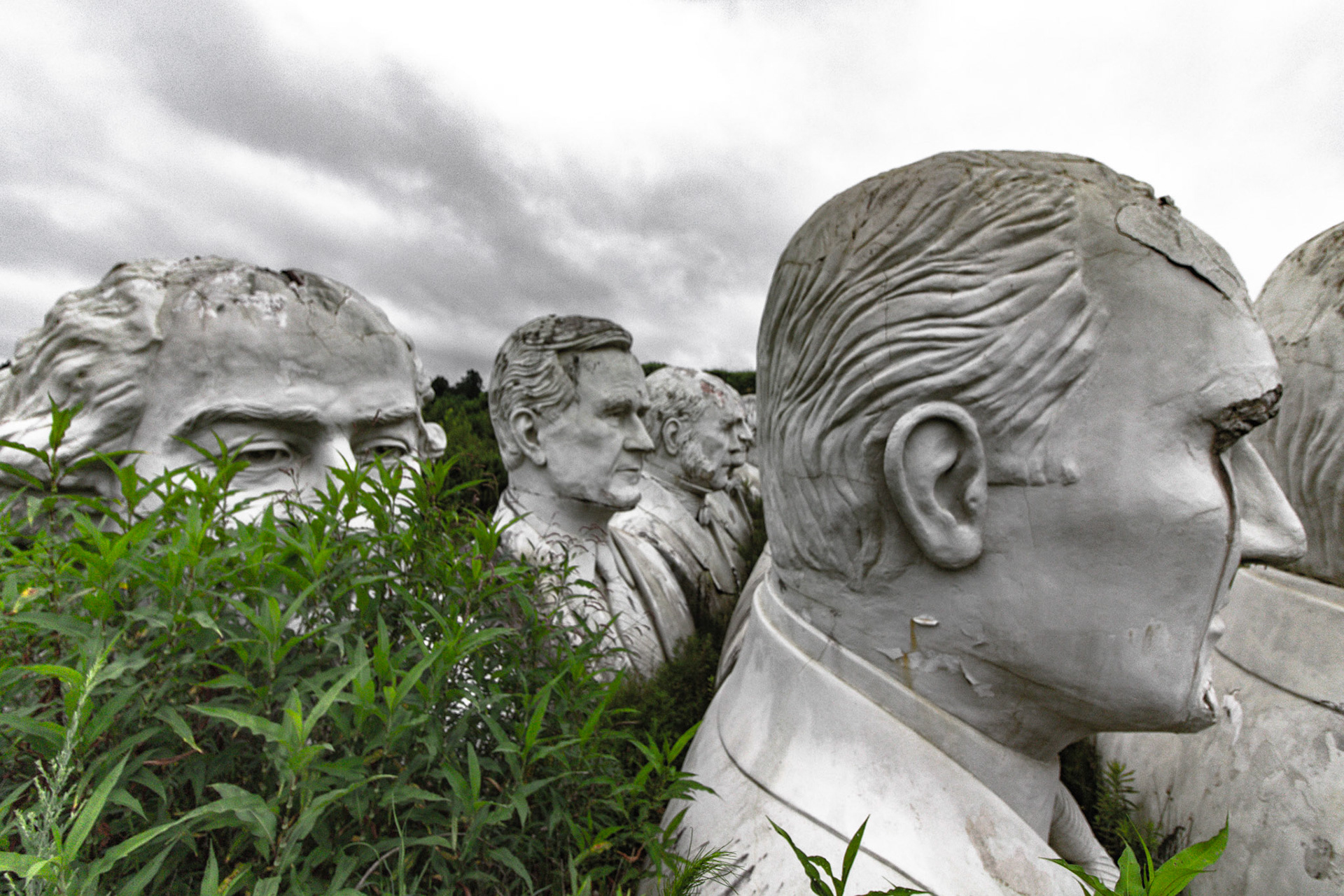 43 oversized busts of former US Presidents lie, decaying, on a privately-owned farm in rural Virginia with an uncertain future.  Walking up on this landscape, I had to ask myself, is this a mirage? As I moved closer, I craned my neck to stare into the nostrils of George Washington, massive enough to suck me up with one sniffle.  Standing at 16-20 feet tall, and surrounded by no-trespassing signs, these statues create a surreal scene as nature is slowly reclaiming its materials. But how did they get here in the first place?
Let us start from the beginning, a vision by a Houston artist inspired by a drive past Mount Rushmore when returning home from Canada.  From Washington to Bush, David Adickes created a $10 million attraction to be moved east on flatbeds.  Completed in 2000, it took 4 years of shipments and negotiations to find a 10-acre plot in Williamsburg, VA to display these beasts.
"President's Park" was officially opened in March of 2004 by entrepreneur Everette Newman. The historical park charged $13 for adults and $8 for children. Open for another 6 years, the park began suffering financially as tourism declined.  Located too far from colonial Williamsburg, and hidden behind a motel, the park could not attract enough visitors to afford the mortgage, and it eventually went bust (no pun intended). The realty company sold the land to Enterprise Rent-A-Car, and the heads had to be removed as part of the agreement.
After sitting derelict on the property for another 3 years, the presidents found their current resting place on a 400-acre family farm owned by Howard Hankins, a developer of the original park.  Initially asked by Newman to demolish the heads, Hankins offered to take them off the company's hands on his own dime because he "couldn't see breaking them up." Hankins spent $50,000 to have the busts transported to his farm, but the move was far from simple…
Weighing in at an estimated 2 tons, Hankins and his crew had to punch large holes in the heads of these former presidents, so that his crane could latch on to the steel frames. This led to severe damage to each Commander in Chief, including an ironic hole through the back of Lincoln's head. The only president to be restored to its former likeness was Andrew Jackson, however Hankins has high hopes to revitalize this piece of history.
For now, these past leaders sit awaiting their future, crumbling, cracking, and peeling as they are forced to withstand the elements. Hankins (who is now the owner of the statues) envisions a new and improved President's Park and has been working with local government to find a new home for his hidden treasure. His dream is to build a giant interactive museum, one that will teach individuals of all ages.  For now, the future is uncertain, but I hope to see these decaying leaders return to life.